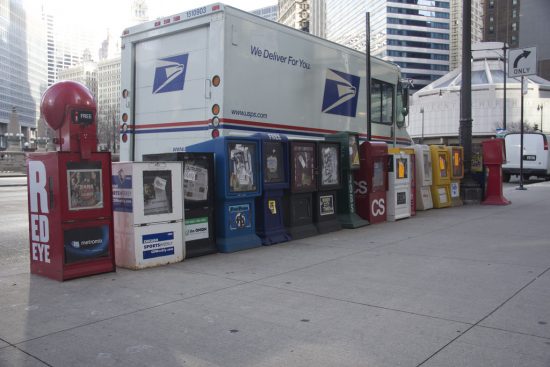 Because I work in politics, friends often assume I like to talk about the politics and the schemes or expected outcomes of various elections and maneuvers. But really, I'm much more interested in talking about where people get their information. Where you gather your information informs how you think, and whether or not you're a critical thinker, versus someone who operates on received wisdom.
My parents and grandparents on both sides were sharp, critical thinkers, so as a young man talking about something I'd learned, I'd often hear, "Are you sure about that? You should check your sources," from some elder. My desire to have a bulletproof argument turned me into a reader of as many sources as I could find. As a professional, I don't think I have any bulletproof arguments, but they're at least nuanced.
Generally, when I'm consuming news, I categorize content into four groups:
Hard Information – This the basic who, what where and when. The most valuable kind of reporting. It's the hardest to produce and the least sexy. Original reporting (not a retread of someone else's work) is typically found in only the big daily newspapers, CNN.com (not the TV channel) and niche reporting sites.
Analysis – This is a tricky one, since there's lots of analysis written by people that don't know their topic well. I try to look for experienced reporters who can explain why a thing is happening, not what will happen next.
Future Prediction – Here I'm looking for clear domain experts. People that have been in the industry or following it for decades. Good writing in this genre is rare, because it requires deep research and constant immersion with other deep thinkers in the chosen domain, as well as an ability to explain the technical aspects of a domain.
Gossip & Political Sports – This is the garbage I try to avoid. Most of what you see on any cable network and the vast majority of political reporting. He said, she said reactions. Horse race poll reporting. The stuff that just gets you outraged or fired up. I try to block it out, because I don't understand the world any better as a result of consuming it.
So, to give you a sense of my process, here's the news media I read and consume regularly:
Daily Local News
Blessed with a robust local news scene, Chicago is bursting with news outlets. It's impossible to get to them all every day, so I do a lot of skimming, focusing on reporters I know and like. Every weekday morning I read a stack of local email newsletters, starting with my old publication, The Daily Line, and then Politico's Illinois Playbook, Capitol Fax, Crain's Chicago Business, and Block Club. TDL and Playbook include roundups of big political stories from other local publications, so that's how I usually end up getting to stories from the Chicago Tribune, Sun Times, Pro Publica Illinois, and WBEZ, Chicago's public radio station.
Time is a big factor every morning, since I need to get through a lot of content before I start my work day. I don't really surf local news website front pages any more, since I find scrolling through their sites to find stories to be slower than getting links from local aggregators. Yet, I'm still reading a ton of articles from these local publications, so I'm a paying subscriber to the Chicago Tribune, Sun Times, Block Club, The Daily Line and Capitol Fax. I know it's a lot, but I still get through the political news of each one daily.
I should note that I'm usually not reading entire whole articles. Instead, I tend to skim articles rather than read them in depth. Most Chicago City Hall reports are structured so that the real news is only in the first four or five graphs. After that comes reaction quotes, and then background. Reaction quotes are totally useless to me, since once you know who the players are, you can pretty much guess what they're going to say. And the background is well, background. I've been there before.
I'm also not really reading paper versions of anything any more. Except on Sunday, I just don't have time to read through paper – and I'm not really interested in most of what's in paper editions. So it's digital, digital, digital.
Daily National News
I used to subscribe to a few national email newsletters, notably Morning Briefing from the New York Times, The 202 from the Washington Post, Politico's morning Playbook and Axios AM. I've stopped reading most of them for various reasons, because I felt like the content was too gossipy, with more of a lean towards "the sport" and gossip of politics, with less hard information.
I figured out that most of what was in NYT and WaPo's newsletters could be found on their excellent website front pages (I subscribe to both digital editions), and most of Politico's gossip was totally disposable. I enjoy Axios AM largely because its writer, Mike Allen, is so smart and every few days he has some insight nobody else has.
So, every morning I scroll through the NYT and WaPo front pages as well as The Atlantic, clicking on articles and opinion pieces I want to read. I usually end up with six or seven articles per publication. Again, I skim the articles, because many times the coverage is similar. Here, I'm mostly looking for details I didn't see somewhere else, or an analysis on a topic I hadn't considered before.
I find that between those three sources, I'm able to keep up on the basics on a daily basis.
I should note here that I'm not a cable news watcher. I just don't find any of it useful. I can get a more in-depth story faster in print, and I just have no use for the bombastic commentary the broadcast in the evenings.
Weekly National News
A couple times a week, usually during my lunch break, or a slow period at my desk in the afternoon, I surf through a series of sites I call "other news". I never know what I'm going to find, but generally I look for analysis and future prediction here. These often turn into long reads, which I generally save to read on my phone during my evening train ride home using the amazing Instapaper.
My reading list is a varied stack, including Buzzfeed News, New York Magazine's Intelligencer, Foreign Policy, American Spectator, The Intercept, Pacific Standard, Talking Points Memo, Chicago Magazine, Business Insider, DefenseOne, The Root and The Guardian. There's plenty of others that I check out once a month or so, but the above get my regular attention. I think of these as the variety that gives me my "hmmm" moments, from a perspective or insight that hadn't occurred to me before.
Technology News
Technology is interesting to me mostly because it seems to portend so much of what's to come. The tech business is struggling with our world's biggest social problems, so I tend to think of it as a canary in the coal mine. When I was younger I hung on every last technical development, and could argue the merits of RISC versus CISC processors (R.I.P. Byte Magazine), but today I don't have the interest or energy to follow it as in depth as I once did. Now, I'm mostly looking to understand business strategies more than anything.
I used to subscribe to PandoDaily, The Information and Stratechery. They are all excellent, but their detail turned into an information overload. Now I subscribe to the free weekly version of Stratechery, the well written Monday Note email newsletter and Benedict Evans' weekly newsletter. Every week I also browse Recode for Kara Swisher's consistently newsmaking interviews and watch Marcus Brownlee's fun-to-watch product reviews, MKBHD, on YouTube. Felix Salmon's new weekly "Axios Edge" newsletter seems like it'll be a keeper too. Then, I love to watch Scott Galloway's Winners & Losers videos as well as his new, hilarious podcast, Pivot with Kara Swisher.
Finally, because I can't get enough Apple-related news, I read Daring Fireball, an Apple-centric blog started sixteen years ago by John Gruber, that has turned out to be some of the sharpest technology commentary available.
Media News
I'm constantly intrigued by the business of news, since I spent eight years starting, running or working in news startups. It's a terrible, unforgiving business that touches everyone's life, and yet continues to evade most attempts to create a sustainable business. The business of news, as opposed to the editorial part, attracts an incredible mix of super-rich egotists, crusading brainiacs and bombastic salespeople, creating a thinking person's soap opera, all in service of our democracy. How could you not love it?
There's been lots of great analysis and reporting on media. But it media reporting is a slippery slope into preachy, leftist commentary. I'm more interested in the business of news: How are you going to make enough money to keep the doors open? Avoiding gossip and preaching cuts down my sources quickly.
Every morning I read Brian Stelter's Reliable Sources email, a staggeringly thorough review of what every network and big publication ran with the last day. For Chicago media, I read Robert Feder's email newsletter, which is basically like a local "who's working where" tracker.
Weekly, I check out CJR.org, Nieman Lab for stories on what news publications are worrying about, and listen to Peter Kafka's Recode Media podcast and the Digiday Podcast for interviews with media industry leaders. The podcast interviews are where I learn the most and get the best sense of where things are going.
For Fun
Hard to believe, but I still have more time left to read and listen for fun. I read Dave Pell's Next Draft email, which comes out every weekday afternoon, Jason Kotte's website of cool stuff and commentary, which he's been running since the 90's, Ed Yong's "Ed's Up" newsletter, Tyler Cowen's "Conversations With Tyler" podcast, which comprises of smart interviews with smart people of all kinds, and I recently subscribed to Matt Taibbi's The Fairway, which is a political non-fiction book about Washington published in the form of a weekly newsletter. Finally, I make sure I read the print versions of New York Magazine, which is just the most beautifully laid out and well written magazine you can find, as well as The New Yorker, which has great writing of all kinds and is a pleasure for the eye. Oh! And on Sundays, I pour through every section of the The New York Times in print with my weekly cup of coffee. A ritual I've kept for over thirty years.
It's a lot. In fact, now that I've written all this down, I can't believe I consume all this regularly. And yet, I'm always looking for more. If you know of a newsletter, website or podcast I should, check out, please drop me a line!