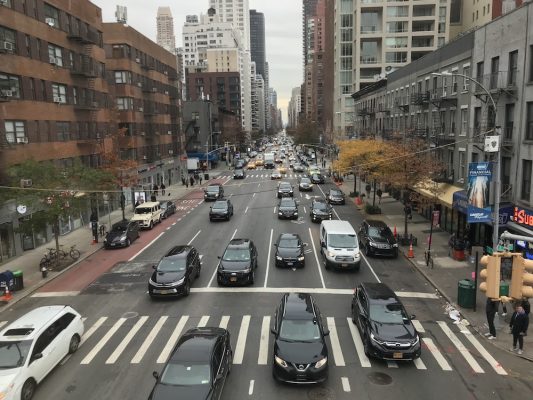 I visited New York City this weekend to visit my sister and a few friends. I'm trying to visit more of my friends and family that live in other cities, to broaden my experience beyond Chicago. Besides New York, this year I've visited friends and family in Milwaukee, Boston, Cincinnati and Lexington, Kentucky. After five years of not much travel beyond the usual family vacations, it's been a good opportunity to see how other parts of the United States work.
When I visit a city, for the first time or fiftieth, I try to walk as much as I can, take public transit and if possible, do things that regular residents might do: grocery shop, see a doctor, eat lunch at a joint frequented by office drones (of which I am one). I find the regular things are much more revealing of a city's character than anything else. Where does a city put its energy? What is the struggle or joy of being a resident?
So, here are, in no particular order, some observations about American life in some big and small cities I've visited this year.
New York's density makes it vast, and difficult to traverse. Moving from borough to borough takes concentrated effort. I love the subway system, but to go five miles from Manhattan's Upper East Side to downtown Brooklyn took me forty-five minutes. I don't know how that can be improved, but negotiating closed subway lines, transfers, etc. was hard, even for an experienced traveler like me.
Although it has so much to offer many cities don't, just doing the basics in NYC can be grinding. At one point it took me 20 minutes to refill my MetroTransit card (the story isn't worth it). Going grocery shopping in Manhattan requires a dedicated trip and once you're in the store, you're faced with much smaller pickings than other cities and much higher prices. Every friend I visited with had a harrowing commuting story. That kind of stuff could wear you down.
Beyond America's biggest Northern cities like New York, Boston and Chicago, it's hard to live without a car. I know there are people who do it, but most American cities are just not designed for life without a car. I know many Americans like their cars, but that's a huge sunk cost, and will keep us from enjoying the benefits of density.
I've visited Boston maybe fifty times in my life since I have family in Massachusetts and I went to college nearby. This spring, I tried using BlueBike, one of the bikeshare services in the city. It was a revelation. Going from West End to Fenway, with a few stops in between was easy, and cheap as heck, since I had bought a $10 day pass. Easier than taking the T and a ton of fun, since I got to see much more of the city than I would have if I were underground. I didn't get a chance to use Citibike in NYC this time around, but I saw I ton of people using it in Manhattan and downtown Brooklyn. Total game changer for getting around in a big, dense city.
New York's subway system is really incredible. While you expect it to move you around the city easily, you don't really appreciate how special it is until you're three stories down, walking to transfer from one line to another, and you come across a vast underground mall lit by a skylight four stories up. It has been upgraded and improved so that it's more than just transit, it's an experience. I haven't ridden the subway in Los Angeles, but Boston, Philadelphia, D.C. and Chicago's subways are certainly not this nice. I wonder if every city had subways as clean and convenient as New York's, would more people use them?
The culture of "Internet Delivery Everything" has taken New York, Chicago, Los Angeles and San Francisco by storm. But the rest of the U.S., especially medium-sized cities like Milwaukee and Lexington, is experiencing this economic-phenomenon in fits and starts. Amazon delivery is everywhere, but not necessarily Uber Eats, Grubhub, grocery delivery services, and especially good Uber/Lyft coverage. These services have transformed my life in Chicago, freeing up hours of time a week and changing the way I think about shopping and getting around. When I travel to cities without these services, I realize how much I depend on them, and how I really don't want to be in a place without them. I'm not confident delivery services will eventually get to every small and medium-sized American city, largely because of a lack of density. I imagine this will become a major drawback for those used to big-city life and make it hard for smaller cities to compete.
With the exception of the biggest, many Northern cities are experiencing a hollowing-out, with big population drops and significant downtown vacancies. The big test for any city is – how busy is the downtown after 5:00 p.m.? But visiting Cincinnati was an especially big shocker for me: Almost the whole western half of downtown, the part without Proctor & Gamble or Fifth/Third Bank headquarters, was virtually empty. While three blocks away the city was buzzing, whole city blocks on the west side were mainly occupied by pigeons. Like Cincinnati, big chunks of Milwaukee are vacant – as are parts of Chicago, which has lost 250,000 African-Americans in the last ten years. This is a crisis of epidemic proportions, and it worries me that it isn't part of our national dialogue.
Travelling around, it becomes hard to ignore that American cities are in serious competition with one another. The winners are ones able to demonstrate a specialized niche, like Pittsburg's tech sector, Boston's higher education offerings, New York's everything. I seriously worry about the future of small and medium-sized Midwestern cities. Sure, Peoria is a nice place to live, but if Caterpillar were to leave, why would anyone move there? The biggest cities are sucking up talented young people (Chicago's 60661 ZIP code has the most Millennials of any in the country, do you think they're planning to move elsewhere?) and smaller cities don't have a convincing story. This also seems like a burgeoning crisis we're just not talking about enough.
This last year I've been wowed by New York's subways, Boston's Big Dig, Cincinnati's riverfront athletic complex, Louisville's new Ohio River bridge. In each one, every detail has been attended to, every standard met. These infrastructure projects change the way we interact with cities and the way we think about what's possible. America at its greatest, is when it changes what's possible. We need more of these kinds of projects, because it will change what we think about ourselves.
I really need to visit more American cities more often. If you've got an air mattress, let me know, because I'd love to stop by and go for a long walk. Drop me a line!