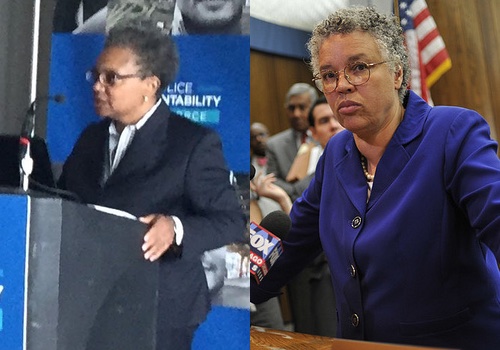 Unless you're a local, American mayoral elections can seem provincial and quaint. "How could a contest for chief garbage collector and town booster be important to the rest of America?" we ask.

But Chicago, preparing for a groundbreaking city election on Tuesday, is a true bellwether city for urban America, and much more conservative than decades of Democratic Party control lets on. Tuesday's runoff election for mayor and city treasurer, and final contest for many City Council seats, will reveal a great deal of insight on what urban residents, now 80% of America, will be prioritizing in the coming years. While city dwellers set the pace for American politics, Chicago's Midwestern values hew more to the middle than coastal Los Angeles and New York City, providing a better prediction of what's to come on the national stage.

Since the start of Chicago's runoff campaign five weeks ago, polling has pointed to a mayoral victory by rookie politician Lori Lightfoot. Yet, the mayoral runoff has been mostly about style, rather than policy substance, since Lightfoot and her opponent, Cook County Board President Toni Preckwinkle, have very similar liberal outlooks on policing, housing, taxation–and just about everything.

Meanwhile, polling for many for City Council runoffs has been favoring lefty, progressive candidates seeking to sweep out old guard pols, making it unlikely that the last few "machine" aldermen will be able to keep the reins of power away from a new, progressive mayor. On top of that, Chicago is about to elect for the first time a city treasurer who was not pulled into office by mayoral coattails, resulting in a new city-wide office held by someone with their own, independent electorate.

Once the ballots are counted, Chicago will see a whole lot of change Wednesday morning. There are five major reasons why all of America should pay attention.

1. Race and minority status have been election issues in brand new ways. Both Toni Preckwinkle and Lori Lightfoot are African-American women, a first for Chicago in the mayor's office, no matter which is elected. And Lightfoot is married and openly gay with a daughter, another big first for Chicago, if she is elected. Yet, because both candidates are black women, minority status has not been a divisive campaign issue, but instead repeatedly affirmed as a gain for Chicago.

This is a remarkable development for a city that has lost 181,000 African-Americans in the last eight years, and one that has struggled with "a tale of two cities" with crime and economic underdevelopment raging in minority communities, while white Chicago has been booming in every way imaginable. A black, woman mayor with working-class roots (Preckwinkle's father was a letter carrier in Minneapolis and Lightfoot's was a steelworker in Ohio) will be a radical change from the white, professional class mayors Chicago has had since 1989.

Under Lightfoot or Preckwinkle, perhaps the project of racial reconciliation and equitable neighborhood development begun by Chicago's first African American mayor, Harold Washington, and halted by his untimely death in office in 1987, can be restarted. All signs seem to suggest that Chicago voters are ready for it.

Unlike Chicago's other recently famous black politician, Barack Obama, both Preckwinkle and Lightfoot have a history of speaking plainly about race and the role it plays in policymaking. Also, both candidates have demonstrated an awareness of how white, Latino, black and Asian perspectives differ, and how personal racial transgressions can feel. With its new leadership, Chicago will be positioned to be a model for post-Donald Trump racial reconciliation.

2. Chicago's coming crime and policing policies will worth watching. As I mentioned before, Chicago is much more conservative than its Democratic voting record suggests. One leading "moderate" candidate for mayor eliminated in the general election, Illinois Comptroller Susana Mendoza, was nicknamed "Electric Suzy" when she was a state legislator, because of her strong support for the death penalty. As a 2019 mayoral candidate, Mendoza attracted campaign staff from outgoing Mayor Rahm Emanuel's team, and made "get tough on crime" policies a major plank of her campaign.

In contrast, both Lightfoot and Preckwinkle are strong proponents of police reform, and each of them played a role in pushing Chicago towards the consent decree it is now under that will make major changes in how the police department operates. This is a big departure from Mayor Emanuel (and his predecessor Richard M. Daley) and from many other leading mayor candidates eliminated in the first round of voting. Long before Laquan McDonald was killed by a Chicago police officer in 2014, views on policing had been a dividing line between white and minority communities, with Emanuel and Daley resisting major policy changes.

Despite President Donald Trump's promotion of 1980's-era police tactics, urban America is calling for change. Preckwinkle' leadership on eliminating cash bail, and Lightfoot's recognition as principal author of the 2016 Chicago Police Accountability Report stating that the Chicago police department struggles with racism, suggests that Chicago is preparing to address crime and race in ways America's federal government has been avoiding.

3. Chicago policymaking is about to get much more progressive. There was an incredible moment in one of the many televised debates between Lightfoot and Preckwinkle, where they argued over which one would be a more aggressive proponent of affordable housing and moving resources to underdeveloped communities. After eight years of Emanuel's New Democrat, pro-business policies, where the Chicago Housing Authority sat on hundreds of millions of dollars while the city endured a low-income housing crisis, it was revolutionary to hear an argument about who would build houses faster. Both mayor candidates have promised liberal-friendly changes to city school governance, policing, neighborhood development and cannabis law, all areas where Emanuel has exhibited feet of clay.

While nationally, urban America is having a left-wing moment, Chicago's incoming leadership will be liberal enough to make big changes but yet challenged to move a big city bureaucracy that naturally resists lefty impulses. Like much of America, Chicago will resist quick fixes and illustrate how hard it will be to implement a progressive agenda.

4. Downtown big business won't be the first priority. Elected in 1989, Mayor Richard M. Daley put a top priority on building up Chicago's downtown and pushing it to diversify into more finance and national corporate headquarters, as many other Rust Belt cities' downtowns withered throughout the 1990's. Emanuel, Daley's successor in 2007, put the downtown-first policy on steroids, pouring resources on while doing everything he could to draw corporate headquarters to the Loop. Emanuel's downtown focus has been hugely successful, as Crain's Chicago Business recently reported that since 2010, the Loop added 130,000 new jobs.

But this boom has been mostly to the benefit of professionals, who are mostly white, as high wage industrial jobs working class blacks and Latinos relied on dried up. During the same time black neighborhoods have emptied out, and large parts of the South and West Sides have been locked into a cycle of disinvestment and high-unemployment since the 1960's. Preckwinkle and Lightfoot have both made neighborhood investment top planks of their campaigns. While it's possible for neighborhood investment to not be anti-business, many of Chicago's business leaders are concerned about what they hear from the mayor candidates, expecting rent control, higher commercial property taxes, and less support for big downtown projects.

Like the rest of America, Chicago's neighborhoods need infrastructure and private investment to spur growth. The 21st Century manufacturing and knowledge economies still need to take hold in Chicago and the city's next mayor will have to write a playbook most of America has yet to discover.

5. The end of mayoral autocracy and a more activist City Council is coming. Chicago's fifty alderman have long quailed under the gaze of their mayor, but come Wednesday, more independent-minded aldermen will hold office than ever before, with the vast majority of alderman elected to office without significant help from the mayoral candidates – a big change from past elections. Past mayors have held power by allying with aldermen who ignored city-wide issues in return for dominance over their home wards and help from the mayor around election time. But this year's Council will bring a majority of aldermen with a history of asking unpleasant questions, and too few of "old machine" pols to keep the levers of power away from activist Council members.

We should expect a bumpy ride for the new Chicago mayor, as City Council pushes back in ways it hasn't done since the early 1980's. But unlike those days' Council Wars between a progressive African-American mayor and reactionary white aldermen, Chicago's next Council session is likely to be pulled between independent-minded aldermen that are more left than the mayor, and reactionary whites and minorities who are more conservative on policing and/or taxation than the mayor. As it stands today, it is unclear what kind of legislative coalition a new mayor will be able to assemble, and that suggests conflict is on the horizon.

America's Democratic Party wrestling match between lefty populists and centrist establishment-types is about to be played out in Chicago. What happens here could be a good indicator of how hard it will be to establish a coalition if a Democratic president ascends to the White House in 2020.