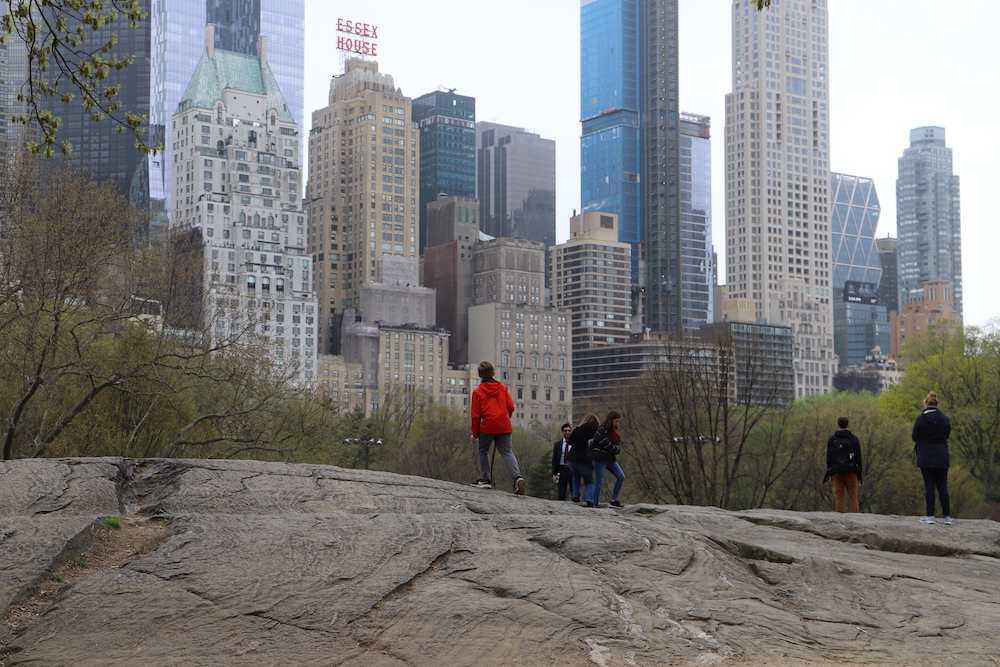 This year for Spring Break, my family and I drove 2,200 miles from Chicago to visit family in Boston and New York City. Along the way we stopped in Cleveland, Harrisburg, New Haven and New Bedford, Massachusetts and spent the night in Buffalo and Pittsburgh. Visiting eight cities in eight days was an amazing opportunity to not only see how varied America really is, but also learn a bit about what cities are doing right and wrong.
Here, in no particular order, are some of my observations from our trip.
1. Boston and NYC's rapid transit has a much tighter grid, and seems to be much busier than Chicago's, but Chicago's system is cleaner, quieter and a better riding experience.
2. Every city, no matter what the size, has some kind of cool thing other cities should all be jealous of. For Cleveland, it's the West Side Market. Buffalo, it's the stellar downtown architecture. New Haven, it's an Italian community with a genuinely unique and excellent native pizza (and Yale too, I guess). Harrisburg, a terrific minor league ballpark right on the river. Pittsburgh, it's a tight, bustling downtown with a vibrant restaurant scene that is unusual for many mid-sized cities.
3. The American landscape, is varied and beautiful. Just between Chicago, Boston and New York, we saw five very different landscapes that took our breaths away. The spaces between our cities are magnificent.
4. Rush hour traffic in Boston and NYC is horrific. I will never complain about Chicago traffic again.
5. Most everything in NYC, especially Manhattan, is obscenely expensive. I can't understand how any kind of middle class can possibly exist in Manhattan and most of Brooklyn. This is not a good development for the city.
6. Seafood on the East Coast is plentiful and relatively inexpensive. I'd forgotten this fact, even though I lived on the East Coast for twelve years. I miss it.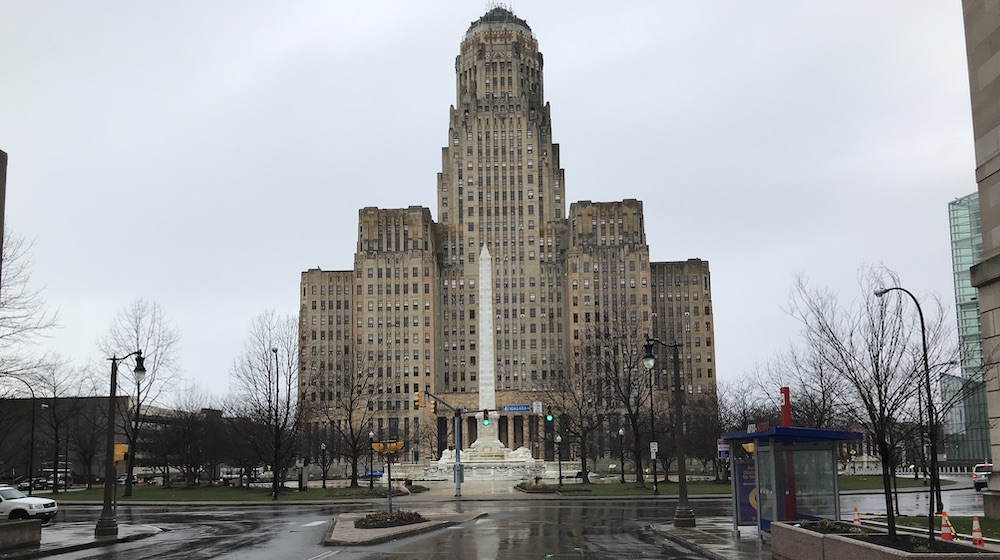 7. We only spent a night and a rainy morning in Buffalo. I'd like to spend more time there. The city is absurdly inexpensive, and we stayed in a great hotel and had a spectacular meal at a French restaurant downtown. Maybe we hit the best parts, but I sense there's more to the city.
8. Boston's new Seaport district is a development triumph, but a failure of city planning, in my opinion. We visited the Institute of Contemporary Art (not worth a return, I think) and explored the Seaport area a bit. It is full of glassy buildings, trendy young people and pricey-looking restaurants. I suppose this is appealing to corporations and twenty-somethings looking to burn inflated salaries, but it lacks soul. I wonder how popular it will be in twenty years.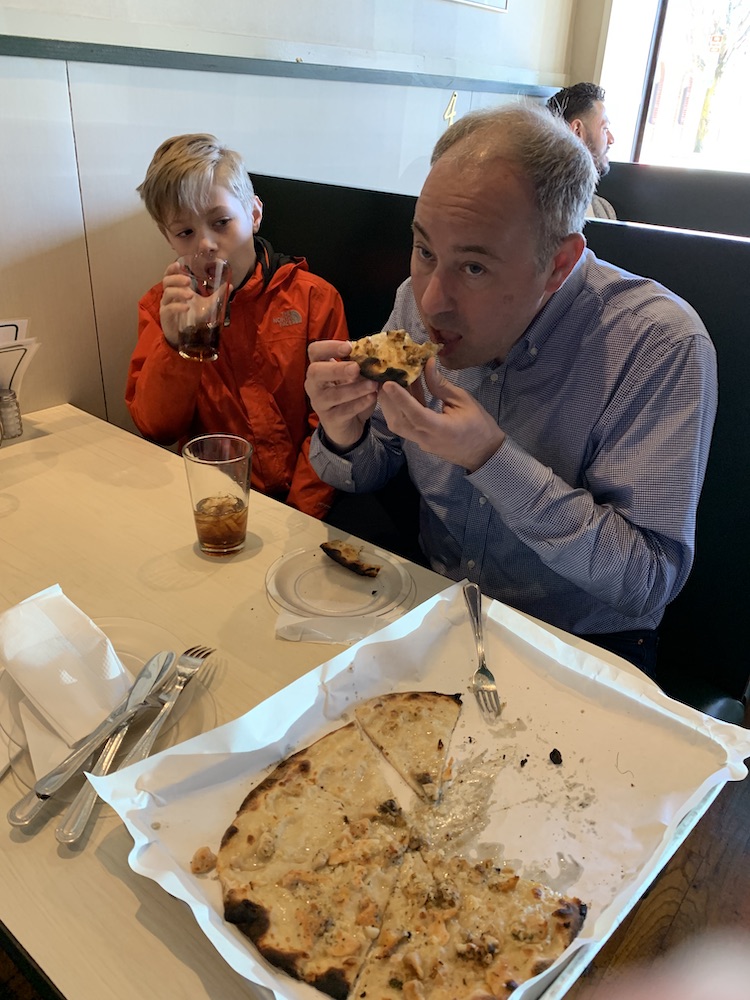 9. Now that I've had New Haven-style pizza, I think it's better than Chicago-style and Brooklyn-style. I know this is sacrilegious for me to say, considering my Chicago roots, but facts are facts. Get to Franco Pepe's Apizza as soon as you can.
10. Coney Island is wonderful. It's a good thing Chicago doesn't have an amusement park I can get to by L, because if I lived in NYC, I'd hit Coney Island's roller coasters at least once a month. So great.
11. We visited downtowns of Buffalo, Boston, Harrisburg, New Haven, New York and Pittsburgh. It doesn't take much observation to see how dense downtowns – and really entire cities – are able to offer many more amenities. Buffalo and New Haven's downtowns have large amounts of empty space, but Boston and Pittsburgh have downtowns hemmed in by either water or neighborhoods, enforcing density (NYC is a whole other category). These dense areas create virtuous circles of culture and commerce in ways obvious to any observer. I can't understand why so many Americans fear density. It makes more things possible.
12. I lived in Harrisburg for three months in 1996 and hated it. Visiting last week for the first time since then, I was happy to see that it has improved somewhat, especially the historic neighborhood just north of the Capitol between Front and Third Streets. The city still has a long way to go, but I would no longer call it a "dump", as I did twenty years ago.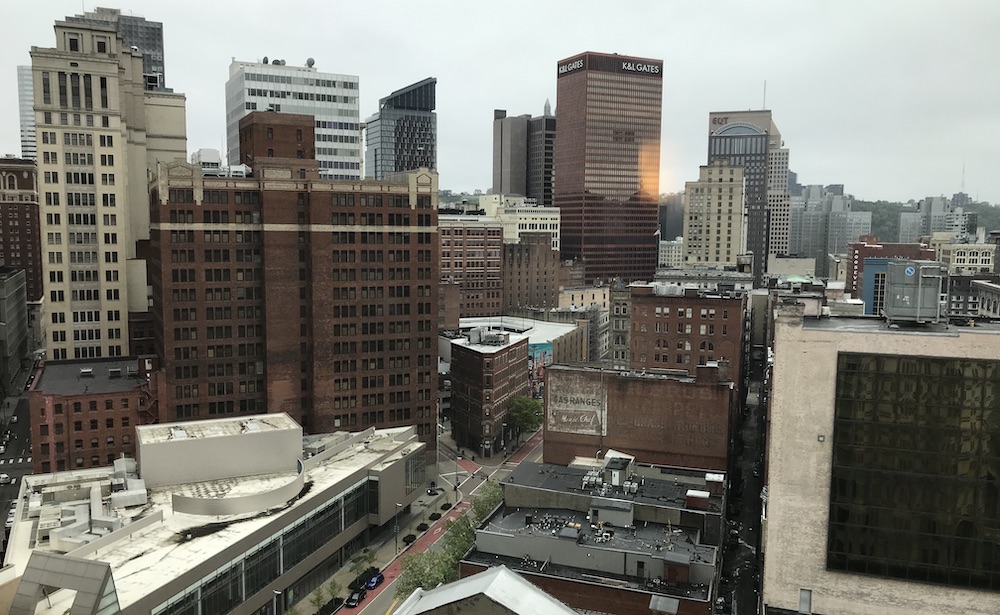 13. We did not have much time to explore Pittsburgh, but the downtown has visibly improved since I last visited fifteen years ago. Most of the empty lots have been in-filled, there's a real restaurant scene, and on Easter Sunday, there were plenty of people wandering around a downtown that lacks residential buildings, which suggests to me that people find downtown worth driving to hang out.
14. Most on-the-road fast food is total garbage. I've come to adore Culver's in the Midwest, and man, it's a great go-to when you're just looking for an O.K. lunch on the road. Also: Why the heck do so many toll road service plazas have Sbarro? It is so unbelievably bad.
15. American interstates are incredible. I drove from Paris to Madrid in 2002 and was stunned at how poor the roads in both France and Spain were – sometimes they were barely better than gravel with tiny signs you could miss in a blink. American interstates on the other hand are pristine, have excellent signage and easy to use on/off ramps. We Americans spend an incredible amount of money on our highways, an amazing subsidy for trucking and citizens with enough time and money to use the roads for long distance travel.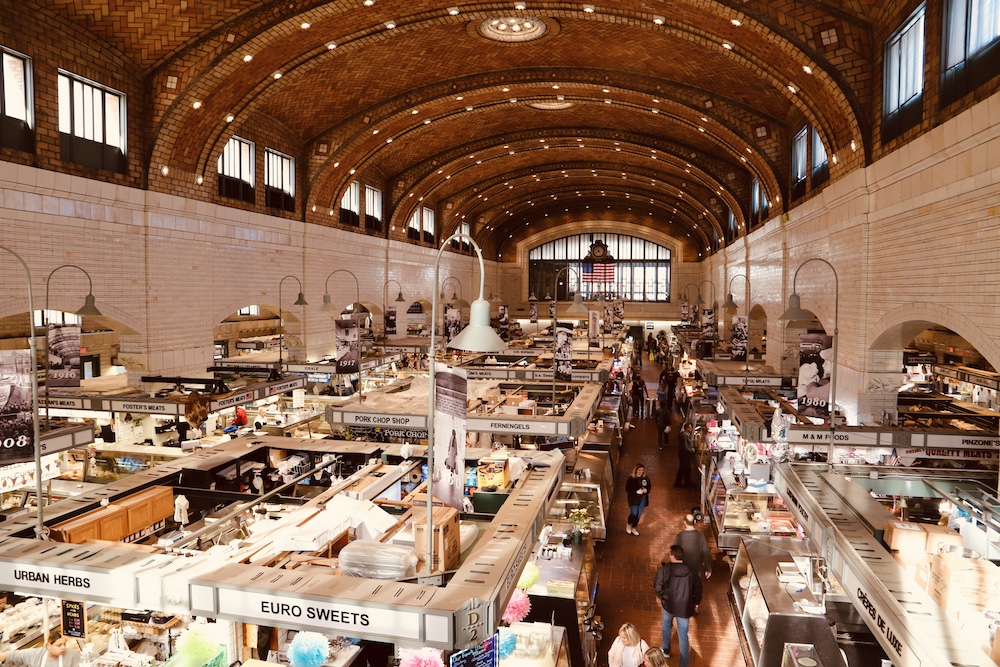 16. Cleveland's West Side Market is amazing. Noticing it on the map while driving through the city on I-90, we decided to get off the interstate to check it out and we couldn't have made a better decision. This is not a tourist market – stocked with working butchers, bakers, fish sellers and produce stands, it is the kind of place regular people could go shopping on a regular basis. Oh! And the building is gorgeous. Every American city needs places like these. Shopping becomes a social experience and you get to meet the people who care about bringing you great food.
17. Boston is crawling with university students. While the city residential population is about 685,000, the city reported 152,000 students from its 35 colleges, universities, and community colleges in 2010. From past experience, I've noticed that Boston during the summer break has a completely different vibe than during the school year – it's like the city is quieter and more relaxed.
18. I haven't mentioned New Bedford's incredible working harbor, the super cool Fraunces Tavern in Manhattan's Battery, Boston's North End, Buffalo's great Pierce-Arrow Transportation Museum, Central Park, the tire shop in The Bronx that fixed a flat for $12 and so much more.
Finally, if you have an opportunity to take an American driving trip like ours, I strongly recommend it. You'll see so many great things.