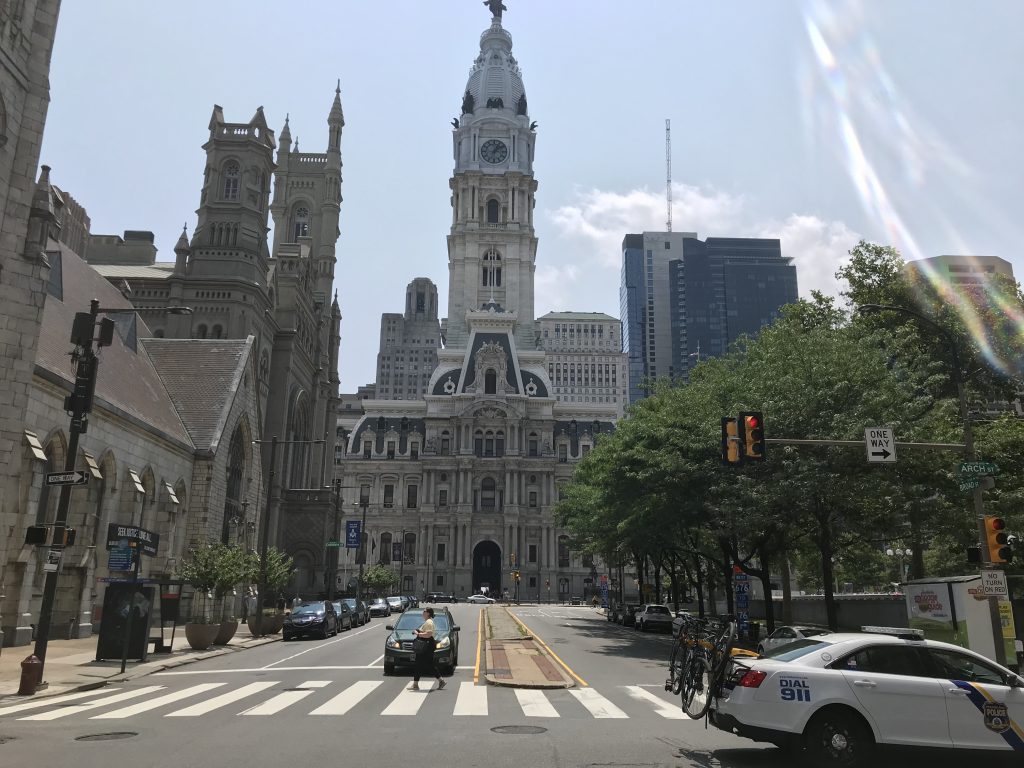 I traveled to Philadelphia last weekend to visit my friend André Natta, check out the city and to attend The Roots Picnic, an annual music festival put on by the Philly-based band, The Roots, whom you might know as the backing band from The Tonight Show on NBC. I hadn't been to Philadelphia since 2001, and I'd heard things had improved a great deal since then, so I was anxious to check it out. Since André is a former city planner, I got a much better tour than I would have gotten all by myself. What follows are a few observations from my trip, in no particular order.
1. Center City Philadelphia – which is much larger than just the downtown area – is large, walkable and full of all kinds of culture and varying neighborhoods. The power of this reality cannot be understated. It makes the city livable in so many ways.
2. Philadelphia is truly a city of neighborhoods. Go four blocks and while the building vernacular may not change, the feel and culture of the area can change drastically.
3. Being a Chicagoan, the idea that you can live in a homey, quiet neighborhood and be able to walk 20 minutes to your downtown office tower seems crazy to me. But that's something you can actually do in Philly.
4. There was a long-time unwritten rule against buildings taller than the Billy Penn statue – which is about 12 stories – on top of City Hall. That rule is gone, and there are plenty of tall office towers downtown, but very, very few apartment buildings in the city. And of what I noticed, most are no more than 12 or 13 stories and clustered around Rittenhouse and Washington Square. Why is that?
5. The Italian Market is terrific, with real people shopping there for real groceries. In most big U.S. cities, the area would have gentrified long ago. There is a little of that in Philly, but not the kind of overheated development you might see in Chicago, New York or Boston. I don't have any answers for why it hasn't gentrified much yet – but I would bet it'll come in time.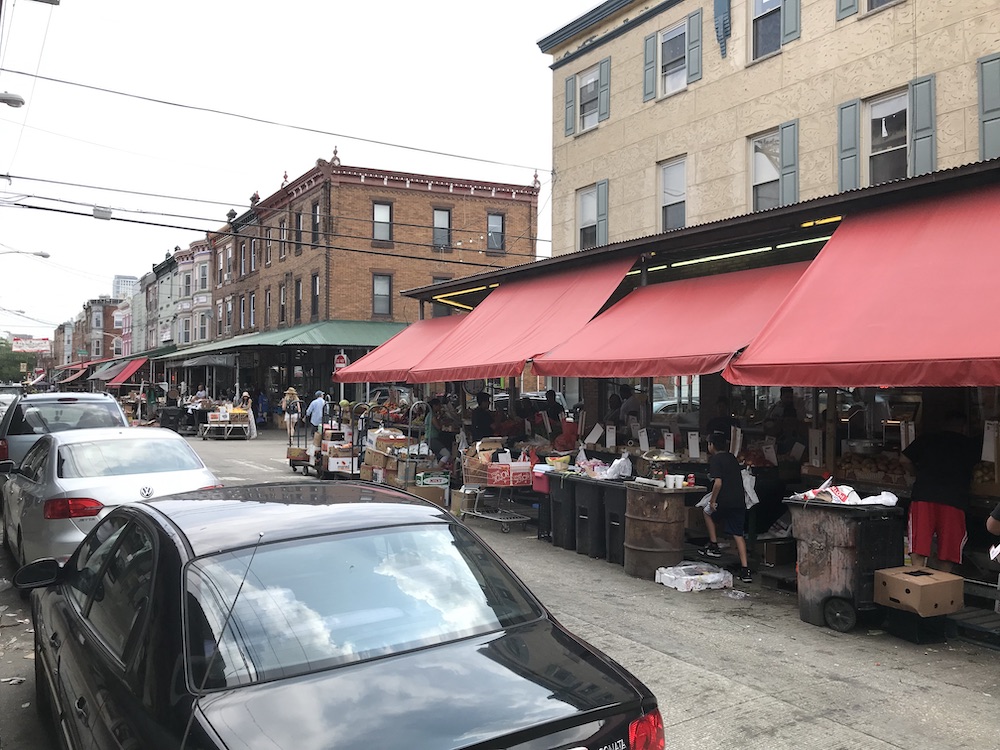 6. Although I didn't get a chance to ride SEPTA this time in town, the city's bus and train system is ubiquitous. My buddy who rides it regularly says their new app that shows bus arrival times has been a game changer.
7. The city's Mann Center, kind of like Foxwoods for Boston, or Ravenna in Chicago, is a great place to see a concert and has an unbeatable view of the city from the western hills.
8. I was surprised to see so much undeveloped space downtown kept as surface parking lots. Philly's downtown has missed the big development booms that hit New York, Boston, D.C. and Houston for the last ten years. My local friend, André, tells me it's because when new big businesses locate to the area, they go to the suburbs and the downtown area just hasn't experienced the same office space demand that surged through other big cities.
9. Center City has an unbelievably busy sidewalk cafe culture. Since it was a sunny weekend in the low 80's, I stumbled across dozens of bustling cafes everywhere I went.
10. Like many big city newspapers, the Philadelphia Inquirer sold their headquarters building, to shed assets for cash. Incredibly, the city police department bought it, and will use it as their new HQ. This seems Orwellian to me.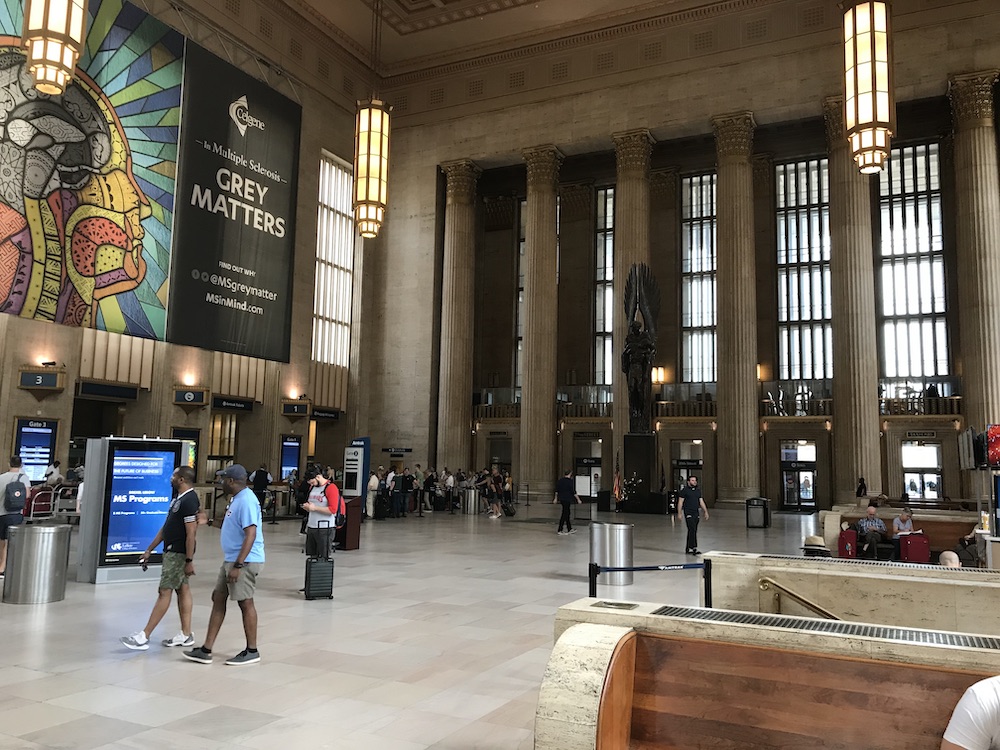 11. 30th Street Station is still one of the coolest train stations in the United States. Even without its flippy sign, it is everything a big train station should be.
12. Philadelphia's proximity to everything is vastly underrated. When I lived in D.C. in the early aughts, I took a two-hour Amtrak train up to Philly once a week to take a test prep class. I got off at 30th Street Station and took a ten–minute SEPTA train ride to my test class downtown. Downtown Philly to Manhattan is 90 minutes by Amtrak! I don't understand why there aren't half a million more people living in Philadelphia taking advantage of this proximity to high-paying jobs, and living in a relatively inexpensive city. (And the shore is 90 minutes away!)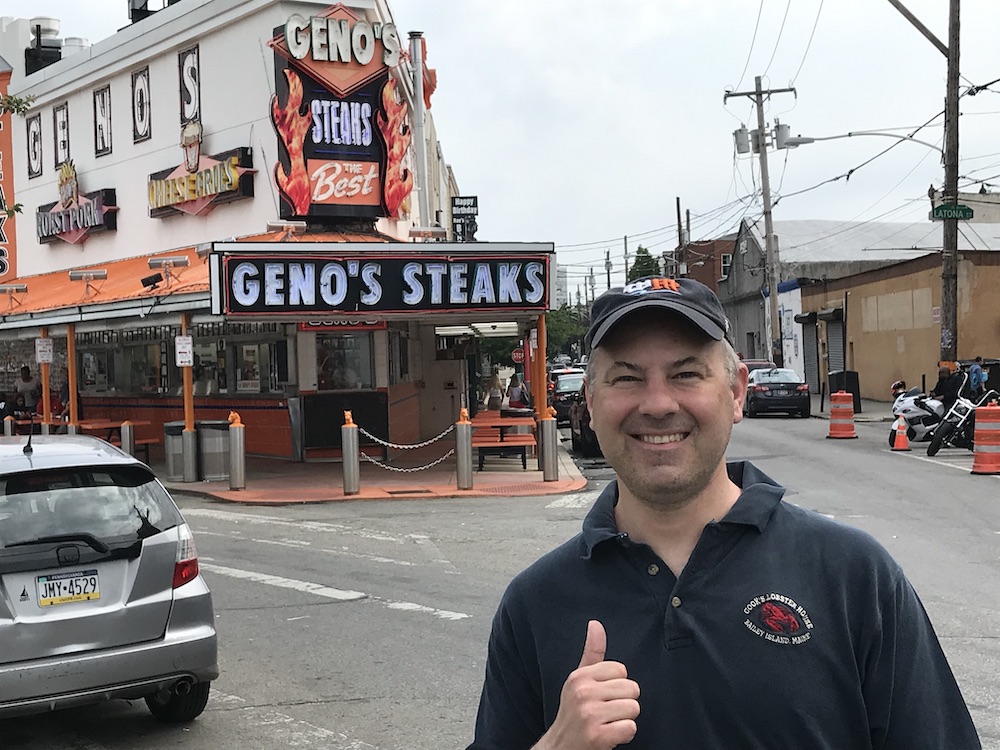 13. Much like a New York slice, a Chicago hot dog or a Los Angeles fish taco, Philly's cheesesteaks are best consumed as genuine street food. Natives have strong feelings about which one they prefer (Gino's, Pat's, Ishkabibble, Campo's, etc.) and that fact gives the city a very real working class culture. I suppose D.C. has half-smokes, but what other cities have a cheap, good and unique street food? Philly has some very important details figured out.
14. It's hard to describe, but Philadelphia has a clear sense of self. It is not a city trying to be like anyone else, nor does it seem to want to be. That quality makes it feel reassuring to be in, and has a certain kind of magnetism I can't describe other than to say, Philly is Philly and nowhere else.
And of course, a word of thanks for André for his great tour guide work. If you want to get sharp, occasional thoughts on the news industry (André is a former JSK Fellow and now works at The Lenfest Institute), subscribe to his Tiny Letter.