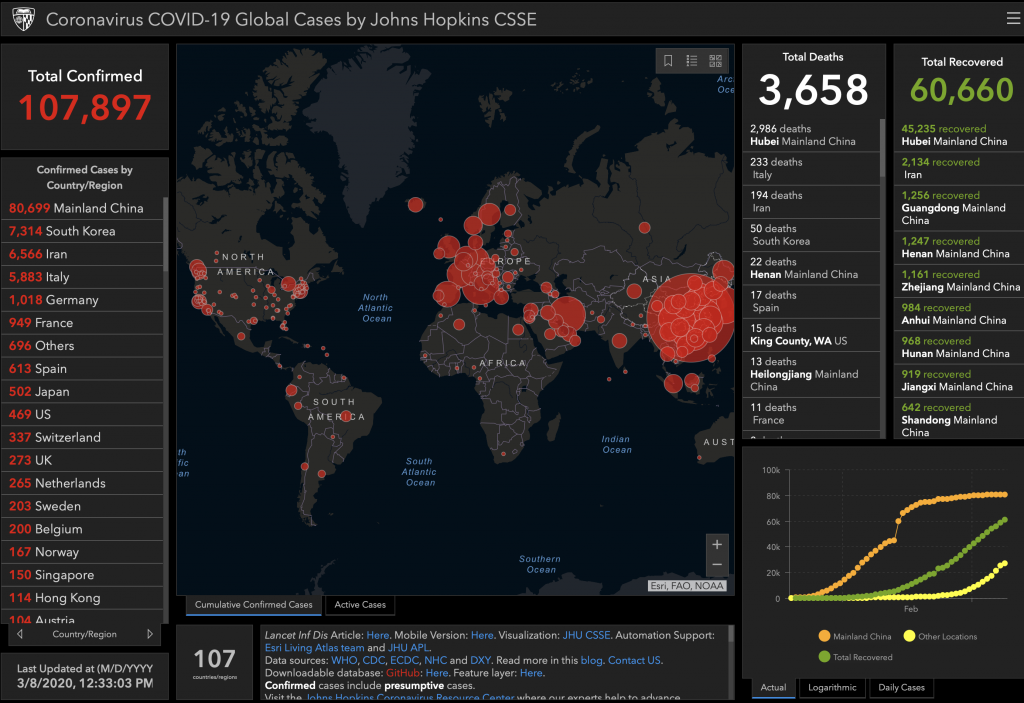 Navy Pier's Skyline Ballroom was packed with trivia nuts last night, as I and 1,500 others competed in Geek Bowl 14, a national competition for a bar trivia game played every week in thousands of bars across America. As They Might Be Giants played during intermissions and hundreds of openly nerdy people rushed the stage to awkwardly dance to "Little Birdhouse In My Soul", I couldn't help but wonder if this is the last major gathering of people I might see in a while.
The night before my wife Teresa had flown back to Chicago from a business trip in San Francisco on a less than half full flight – the one two hours previous had been cancelled for a lack of passengers. Downtown San Francisco, she reported, seemed deserted that week, as Salesforce and Facebook urged employees to work remotely to avoid spreading COVID-19. One restaurant manager told her that, "if this keeps up, we'll be out of business in a week."
The Coronavirus, COVID-19, has arrived on American shores, and it is undoubtedly going to get worse. I'm not a doctor or epidemiologist, but I have played Pandemic and I'm reading plenty of newspapers. It seems that the best way to fight an epidemic is with rapid communication, by quickly moving resources to hotspots, and keeping a firm commitment to truthful speech in the direst of circumstances. As the New York Times and Washington Post have been reporting, we're not getting all the truthful speech, and it seems that rapid communication and quick responses at the highest levels of government are suffering as a result.
Thank goodness for the high levels of professionalism in the American healthcare system, so we know we can still trust doctors, but speed, speed, speed is the way to tamp down an epidemic. Our Trumpist, crippled federal government isn't doing that, and so we should begin to prepare for COVID-19 to impact our lives in a thousand big and small ways.
A template for what we should expect, West Coast businesses and governments are battening down the hatches, letting the wealthiest work from home, which empties airports, hotels and downtown. That means service jobs, like waitstaff, drivers, and delivery are being idled. First they work without tips and then probably get laid off. As in Italy and Iran, schools will likely go next, sending hundreds of thousands of children home without childcare, less of a problem for wealthier parents already working remotely, but a disaster for working class or gig economy parents who lack parental leave at their jobs.
Dozens of college towns will go next, as universities shift to remote education, and students are urged to go home from their dorms, vacating bars, restaurants and other student haunts. Imagine Madison, Bloomington and Athens, Georgia during summer break, and how little economic activity those months experience.
Massive conferences are already being cancelled, such as Chicago's annual 60,000 person-strong Homewares Show, as well as Austin's set of SXSW Film, Music, and Tech festivals, which normally draw 200,000 people. Many Austin bars view SXSW as their "Black Friday", generating over $350 million of revenue in just two weeks. Texas Monthly reports that Austin will "almost certainly see bars and restaurants close unexpectedly as a result of the decision."
It's hard to imagine how much COVID-19 will impact our lives, but perhaps Chicago's 2019 Polar Vortex is a start. For three days we huddled in our homes, only going out to brave the sub-zero Fahrenheit temperatures when we absolutely had to. Schools, universities and businesses closed, as everyone feared sending someone to death by walking around outside.
While everything ground to a halt in Chicago during the Polar Vortex, that was for only a few days, and we knew it would come to an end soon. How long could a COVID-19 scare last? While there are fewer new cases in Wuhan this week, the city still remains under a lockdown started over six weeks ago. The quarantine has disrupted China's economy so much that greenhouse emissions are down 25% and Beijing has unusually clear skies.
Exactly how COVID-19 will impact our lives and change America in the coming months is a mystery, but it seems like a certainty that beyond our economy, activities we take for granted are going to change. Elections are coming up and so are a pair of national political conventions. Iranians are partly blaming their virus' spread on last week's national elections. What will happen to the remaining primaries? Like the 1918 Influenza epidemic, will we have a fall resurgence, affecting November voting? What will going to a grocery store be like? Amusement parks? Riding public transit? Who will lose weeks of work income from getting sick? Who will die?