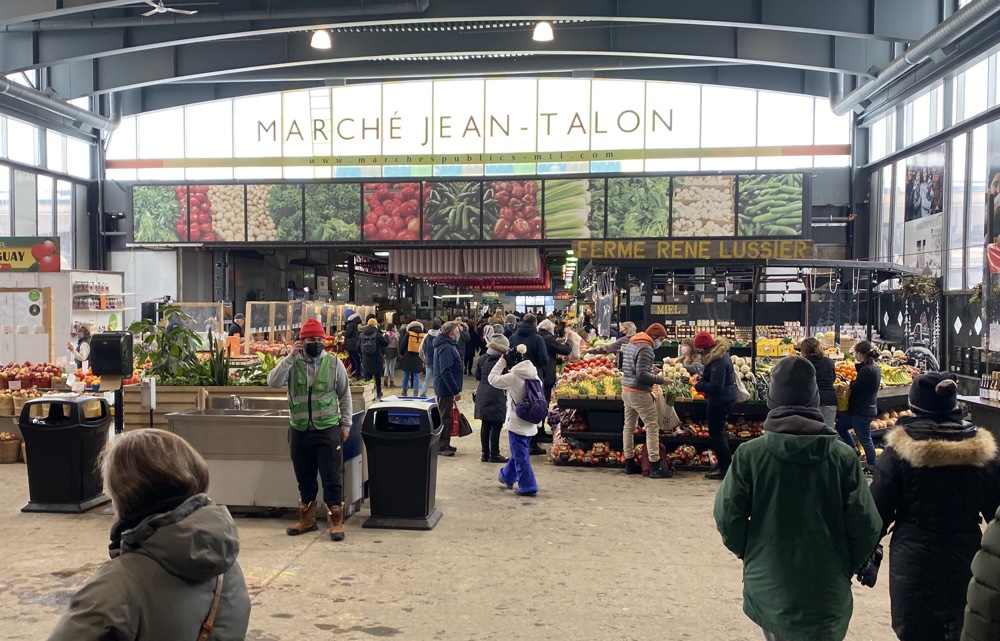 I'd never been to Montreal before Friday, and while I certainly expected all the snow, the city offers more than I'd ever expected. It's a big, diverse, cosmopolitan city with amazing public transport and bike lanes everywhere, and its Frederick Olmstead-designed Parc du Mont-Royal in the middle of the city is an incredible treasure, teeming with people hiking, skating, and skiing, even in the snow squalls we endured as we hiked across the park.
There's a lot of Quebecois stereotypes – and I'm here to tell you some are true. Referred by a Montrealer to Chez Claudette for poutine, we found a dingey diner, staffed by a pair of rough French-speakers wearing rolled up knit hats. In the neighborhoods they understand your English, but speak French back to you – quickly. And yeah, the snow is everywhere.
But the snow! I know Chicago has a reputation for snow, but it's nothing like it is here. And the locals take full advantage. I saw one guy skiing on a sidewalk while walking his dog. The Metro (like in Paris, it's the subway) has a sign reminding riders to carry their sharp skates in a bag. And it seems everywhere you turn, someone's pulling a toddler along the sidewalk on a sled.
People lean into winter here. Even in blizzard conditions the sidewalks far from downtown are crowded with pedestrians. Lots of snow pants and everyone has a thick coat and good boots. Fashion is nothing next to warmth.
And although I'm from the city with the broad shoulders, I'm stunned at the quality of the infrastructure. On a Sunday, we noticed the Metro ran a train every seven minutes. Clean and fast, it emptied out onto well-shoveled sidewalks with cleared, protected bike paths. From one station we walked a couple blocks to the city's largest (of four) indoor markets, Marché Jean-Talon, a building occupying a full city block, full of food stalls selling staples, from meat and fish, to eggs, herbs, cheese, and vegetables. Oh yes, and crepes. Operated by the city, it had an underground parking lot, but most shoppers seemed to walk in, and some even biked through the snow.
Founded in 1642, Montreal has a massive Old Montreal quarter, covering dozens of blocks of cobblestone streets, with stone buildings riddled with cafes and boulangeries – and yes an IGA grocery store for the locals. The city also has one of North America's biggest Jewish populations, with their own, special bagels. Chewier, sweeter, and smaller than New York bagels, they're more snackable and somehow more civilized than the kinds we eat in the States. You can just grab one or two and eat it plain or slathered with cream cheese as a perfect snack, rather than the toasted battleship we're more familiar with.
OK. My love letter to Montreal c'est fini. Please visit, if you haven't. And if you have, consider coming in the winter to skate in the park and ski on the sidewalks.