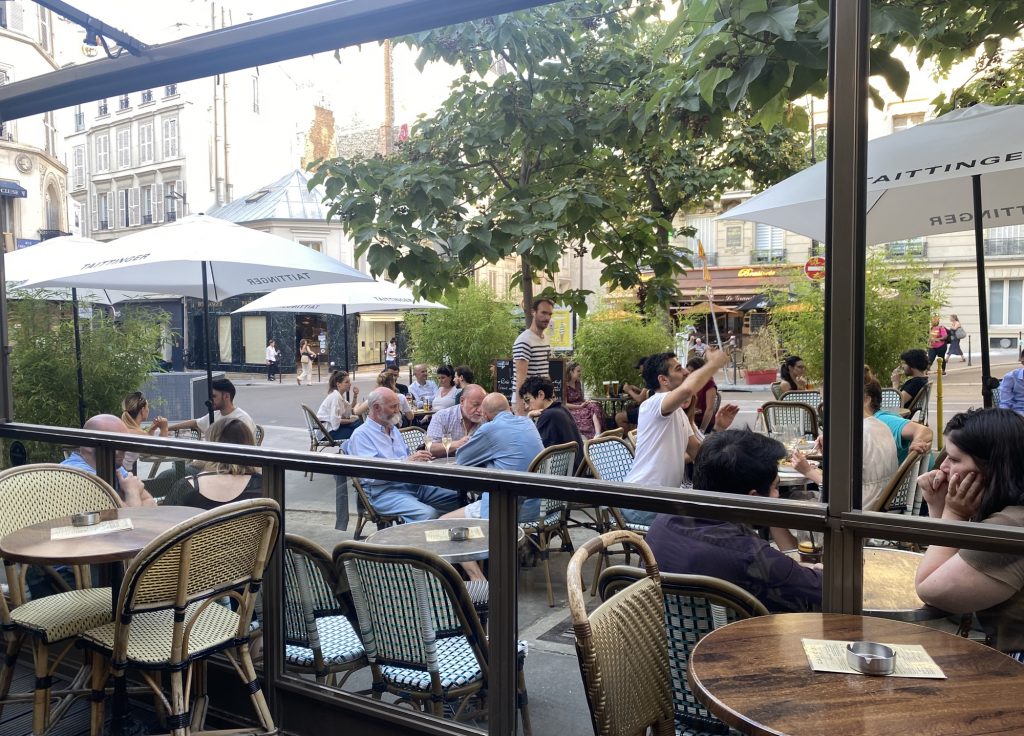 There are bad things to say about Paris, if you want. Parking is terrible, the people are overly polite, apartments are small, it's expensive, there's almost no air conditioning, and they don't have hot sauce.
But once you get over those shocks to the system, it's actually a nice place. Parisians are not really rude at all. It's a cosmopolitan city, extremely walkable, plenty of good food of all kinds, mild weather by many American standards, and generally just a pleasant place to be.
I'm in Paris with my family for two weeks – today is day three of our visit. It's the third time for me, but the first for my wife and son. My architect wife is loving every minute of it, and my thirteen-year old is not totally disaffected, which is a huge accomplishment.
We landed in the city Wednesday morning, flying direct from Chicago Tuesday evening. To start, we're staying in a small, relatively inexpensive hotel on the northwest side of the city.
It was 95-degrees with no humidity, the beginning of what is going to be a number of scorcher days to come – next week it's supposed to reach 104.
Dropping off our bags, we immediately walked 30 minutes to the Arch de Triumph, walking to the top to get a great view of the city. Then, we hiked around and ended up in a spectacular cafe where we ate pate, drank lots of water and watched people go by.
Since then we took a TGV to Stuttgart, Germany to spend a day checking out the Porsche and Mercedes factories, and then spent a day hitting Paris museums. More museums today, on Saturday.
But that's all just tourist stuff. Mostly, I want to tell you about the place, how things are – what there is to learn.
The big headline: Paris is a pretty easy place to be as a human. The streets are clean, the public transit is ubiquitous, car traffic is limited to 18 miles an hour, there are lots of little shops for just about everything you can imagine – everything is at a human scale.
What do I mean by that?
I've been trying to figure out a way to measure up Paris. And as much as I love my Chicago home, it's not a global city – time here in the City of Lights makes that clear. And I've been thinking about other global cities I've been to: New York, London, Mexico City, Cairo. Those places are true magnets for people across the world – or at least their hemisphere – with layers upon layers of culture.
So, how's Paris so different from the others?
I'd say it's the livability of Paris. From what I can see of neighborhoods, most everything you could need is within a 15 minute walk of your apartment. Food, bread, hardware shop, places to hang out, a metro ride to go places. Plenty of culture, plenty of things to do. This is a city built for living – which is an incredible difference from most other cities, which are usually built for doing, building, business.
You've probably heard how in Paris, there are bakeries everywhere. This is very true. But there are also butchers everywhere. And small grocers. An important difference from many North American cities is that retail spaces in Paris tend to be small, so it's easier for a person to afford to open a store and keep it open. There's foot traffic everywhere. People are constantly crawling around, looking at what's changing at street level, keeping crime down, commercial opportunities up, and generally increasing the chance that you'll run into someone.
This evening we're moving into the apartment of a high school friend who is leaving town for a week's vacation at the beach. She and her family live on a pedestrian street filled with shops of all kinds. I'll write more on that later next week. Before that, we'll head to Mont Saint Michel, Normandy and the gardens of Givenchy. I'll report on that next. Squeezed in there will be some work for me, since I'm rationalizing being in Paris for two weeks by some true remote work.
I've got plenty of time here. If you've got some Paris tips or things you think we should do, please drop me a note! I'll be excited to give it a try.