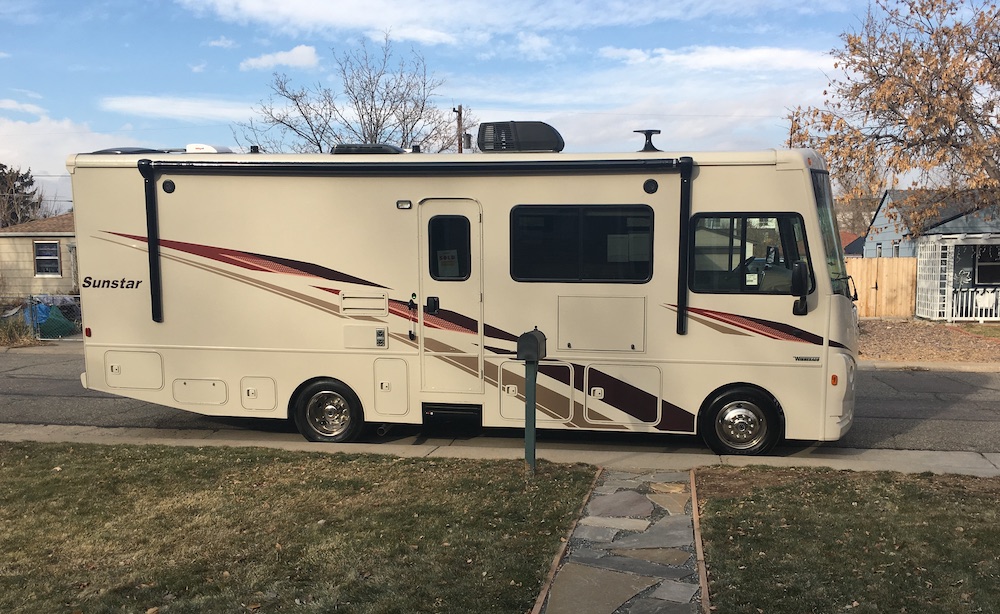 I've become fascinated with people who actually make major life changes after 40. It's expected that in our twenties and thirties that we might move to a new city, start a new career, or commit to a life-long relationship. But people who manage to make those kinds of changes later in life seem braver than the rest of us.
As we get older, and collect the life baggage we call kids, mortgages and careers, it becomes harder to consider big changes, let alone actually make them. Stability becomes a kind of shield against the world's ills, encouraging us to do whatever we can to make sure things stay the same.
So, recently I interviewed three friends who've made major life changes to learn why and how they did them. Rob, who convinced his wife to sell their suburban Denver home and trade it in for an RV and a year of driving around the United States. Sandra, who created a plan five years ago to retire early, and recently left her lucrative civil engineering job in Chicago to retire at age 50. And Ruth, who, despite a passel of kids in Western Massachusetts and friends around the world she loves, decided to stop using Facebook.
Rob, Sandra and Ruth each made changes I'm not sure I could undergo. But each person says they feel secure and happy with their choice and can't imagine doing anything different.
Until last month Rob and his wife Susanna lived in a 4,000 square foot house outside Denver, with a view of the mountains. Rob was an urban planner in Thornton, Colorado, while Susanna managed a federal grant program. They lived in a friendly community, and their five-year old son, Rafe, was happy.
But something just didn't seem right for either Rob or Susanna. "We started thinking from a materialism point of view. Why do we need all this stuff?" said Rob.
Filling a big house with possessions, climbing the career ladder, and living far away from family (Rob's parents live in far-upstate New York, while Susanna's live in New Mexico) was just not fulfilling. Sitting outside with a friend one day, Rob realized, he wanted to leave Denver. And then talking about it later with Susanna, Rob suggested selling everything and moving into an RV for a year.
Susanna was not against the idea. Her job was coming to a close in early 2019. Maybe this was an opportunity, they realized. "I think we were done with Denver after 25-plus years," said Rob. "It took from the end of June to August 1 for us to commit to the idea."
Since the Denver housing market is booming, Rob and Susanna sold their house at a big profit, allowing them to buy the RV and keep their retirement savings safe. They sold or donated most of their household items ("One place had to close for two days to process everything we gave them," said Rob. "We had enough stuff to create six starter kitchens for refugee families coming to Colorado.) and put the rest into a 10×15-foot storage unit.
"I had 45 button-down shirts. Thirty-eight hats. Why do I have all that stuff? I believe I still have half of them, because I haven't been able to get through them. I must have had 20-plus jerseys. It's ridiculous. You collect," said Rob.
At the start of December, they moved into their 28-foot Winnebago RV, and drove to Albuquerque, to stay with Susanna's parents for a while. Later they'll drive across Texas to Florida, then up along the Atlantic Coast, stopping to visit friends along the way. By fall they want to end up in Cairo, New York, to visit Rob's parents, who owned a dairy farm there.
"We are focused on our son's life now. Time on organic farms, digging in the dirt. I want him to ride his bike. Dial down the electronics and working on becoming respectful, with more face-to-face time and learning how to do things," said Rob.
They made plans for a year, since Rafe would normally start first grade next year, but Rob and Susanna are maybe up for homeschooling.
"I am a fan of unschooling," said Rob. "I would be stepping further into experiential learning. I feel between Susanna and I, Rafe can get what he needs without the benefit of public education. What would be underserved would be socialization. We might enroll him in classes just to spend time with other kids."
"There is no set end time on this adventure," said Rob. "There will be a significant amount of time at the Larsen homestead. And then we'll go to Canada, and then to Alaska, because Rafe has been talking about Alaska."
Ruth has two boys, aged 15 and 10, and one girl, 13. A part-time English as a Second Language teacher today, Ruth served in the Peace Corps in Albania and Romania right after college, and ever since I've known her those in college years, she's managed to keep a broad collection of friends from every corner of the world.
But then last month she decided to stop using Facebook and delete her account. Her reasons why are excellent, so let me just transcribe what she said to me on the phone recently.
"They [Facebook] have the winning formula for keeping you as a customer. It's not a normal service they're offering. They're selling you your own life; your emotions. You're so invested emotionally: your pictures, recipes. Your life: it's all there. Without it, you're potentially throwing away anything you might see again. 'I might not be able to find that friend again.' They have people as captives, because people can't break away.
"But I decided to reject it anyway. I don't like feeling trapped. In the end, I was feeling exhausted. It's a series of pictures and it elicits emotions. You feel all these different things: nostalgia, remorse. But it's all in your head. There's not an actual interaction because your emotions have been played. You end up feeling exhausted.
"Then, the people you're actually with: your family. [The time you spend on Facebook is] at the expense of the people around you. You could instead take a shower, go outside, meditate, cook. It's not relaxing. It just makes you more tired.
"What will happen if I don't do it? What will the cost be to me?
"You feel like you have to keep giving and giving. In the end its all fake. Your friend on Facebook feel like they've seen you, they know you, but it's not really there."
But, Ruth admits she has a few advantages: Her husband doesn't use Facebook, and all of hers and her husband's family live within a short drive of her house. Her oldest daughter uses Instagram, but none of the kids are Facebook users.
When I checked in with her, she said feels pretty good about being without Facebook or social media.
"I feel better, because I don't have nagging in the back of my mind to look at it. It's one less thing on my to do list. I'm not drawn to my phone."
She's noticing the lack of interaction, though. "I miss the Mike Fourchers in my life. I like seeing what people are doing, but I'm ok with not having seen it. If I could check in again in five years, that would be good. You could call me or let me know if you're going to be nearby."
For Sandra, the decision to retire at 50 was about gaining time for her many hobbies. Originally a theater major, Sandra graduated college and started working in small storefront theaters, eventually helping to run Stage Left Theater, a well-respected non-equity theater in Chicago. But she was always working a waitstaff job on the side to make ends meet, so by the time she was thirty, she'd figured out math and gone to graduate school to earn an engineering degree at University of Illinois-Chicago.
"My starting salary [out of school], was almost double what I'd ever made my entire life. I was hired out of school by Parsons Brinkerhoff and I haven't worked anywhere else since then."
Work was always satisfactory, Sanda says, but it was never really the core of her life. One of her hobbies, political activism, is how I met her over ten years ago. She is also an avid dancer, loves to read, and has a habit of walking all over Chicago, long distances.
"I'm not that into [work]. It was just a day job to me," Sandra said.
Never extravagant, Sandra lives in a one-bedroom condo that she paid off years ago. She's not married, doesn't have kids, and managed to pay her student loans off quickly.
"I have a lifestyle where I don't care about fancy stuff. I worked at a place where I was paid well and got lots of money. I basically decided I didn't want stuff," so she spent a lot of time saving, rather than spending.
Five years ago, Sandra decided that what she really wanted was more time for her hobbies and friends. So, like the engineer she is, she made a plan to retire at 50.
"All I had to do was get to 59 and a half when I could get into my 401K."
Quietly, Sandra enacted her plan. The reality of it arrived about a year ago.
"Last December, I was talking to my boss. I'd been there 15 years, and he was talking about 2018 and all the projects coming up. I felt bad for him. And then I told him I would be retiring in 2018."
Sandra's firm specializes highway construction, and Sandra specialized in roadway hydrology. She was basically the person who figured out if the planned road would be able to drain water, rather than make pools you'd skid across and kill yourself from.
"When I told Dave, my boss, I was afraid of his reaction, but he said, 'That sounds great, I wish I could do that too.' But he makes a ton of money, much more than me. I'm sure he could retire now if he wanted."
Sandra's firm needed her, because there really aren't too many people that can do what she does. A one-year notice seemed about right.
"I gave them a long lead time. But even then, the last month was crazy before I left."
Right after quitting work, Sandra had some elective surgery to take care of a cartilage problem in her knee. Now she's using her convalescence to think about what to do with all of her time – for the rest of her life.
She thinks of becoming a personal financial coach. Or maybe taking a part-time job in a coffee shop just to have structure and a guarantee that she'll talk to people on a regular basis. She has dance classes, and for summer, she's planning walking dates with friends along Lake Michigan.
More than anything, what strikes me about Rob, Ruth and Sandra is how clear minded they all seem about their choices. None of them expressed any hesitation now they're committed to their choice, and all of them described their decision-making process as matter-of-fact. Almost to the point where they couldn't imagine doing anything different. In retrospect, their decisions seemed obvious.
But their choices are certainly their own. When I told each one about the others, they were all impressed by one another. ("That would be psychologically harder than what we're doing," Rob said about Ruth leaving Facebook. "I haven't totally committed to that kind of disconnect yet.")
So, it seems to me that while each person has circumstances that made their choice easier than it might be for others, those circumstances are no accident. There's a kind of psychological positioning each person seemed to begin for themselves, long before they sold their house, left Facebook or took early retirement.
Perhaps, it's not the decision, or taking the big leap that's the hard part. It's creating a mindset to make those decisions in the first place.