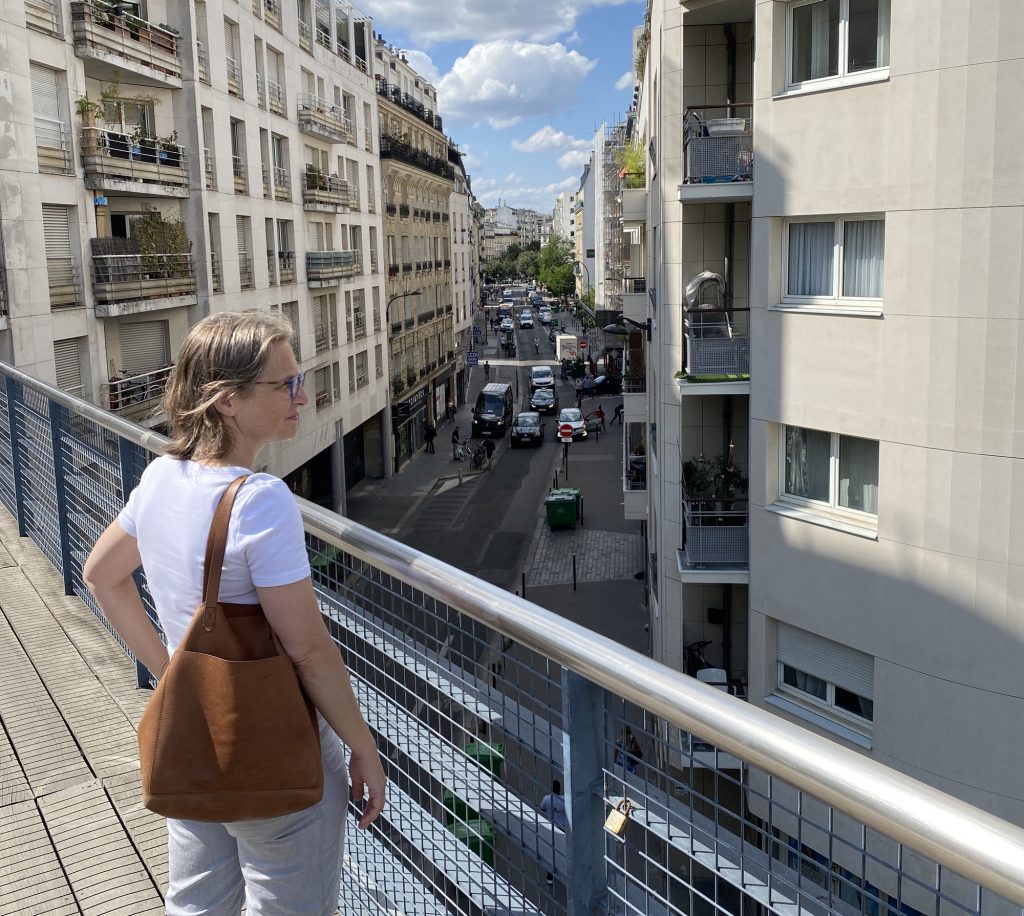 Yesterday morning, as I gazed out the window of our tiny rental's kitchen, I listened to two separate iPhone alarms ring. They came from the open windows of other apartments in our building. Looking for the source, I saw a waking arm flailing around to find the phone next to a windowsill.
Paris is dense. The urban core has about the same population as Chicago, but half the area. Everyone here is cheek to jowl. You hear it with morning alarm bells, smell it with cigarette smoke wafting up from adjacent apartment windows, jostle it in sidewalk cafes with seats barely five centimeters apart, feel it with tiny elevators that barely hold three people, and smell it again on Metro cars from your sweaty neighbor.
The density is the progenitor and result of the city's charm. Tiny apartments mean public spaces are more important. Well kept public spaces draw more people outside, creating cafe culture, and lots of public interaction. Density means you need to be more inventive with the space left over, so you find basketball courts under elevated Metro lines, children's carousels on street medians (I've seen at least three of these), and pedestrian overpasses over park space.
Nothing goes unused and everyone is constantly aware of everyone else's presence. Despite being a highly urbanized American, I'm wondering if I'm meeting my saturation point after two weeks.
And in that time, my wife and I have turned to our regular traveler's conversation: Could we live here happily?
And despite the charms and beauty of Paris, we're just not sure we could.
Food is crazy expensive for one. Yes, bread, cheese, and wine are practically subsidized industries in France, but meat is twice or three times more expensive than in the U.S., and if the fruit is not local, it's very expensive. Spanish oranges are about a euro each, more than twice what you'd expect to pay for the Florida stuff in the U.S. But local grapes go for a song, and green beans are practically given away.
Looking at high food prices, I understand why everyone is so thin here, but I also wonder how all these little food shops manage to stay in business.
Also, despite our urbanist attitudes, Paris' density is more than either one of us really enjoy. We miss our small backyard and sprawling parks from North America.
Then, Parisians also carry a certain haughtiness that gets exhausting. You may know it as the stereotypical French snootiness, but now that I've been in Paris for a couple weeks, I see it as a defense mechanism to the city's cramped existence. "I may have to share space with you, but I don't have to like you," is a typical Parisian attitude. You feel it in the streets, cafes, and anywhere you have to share space.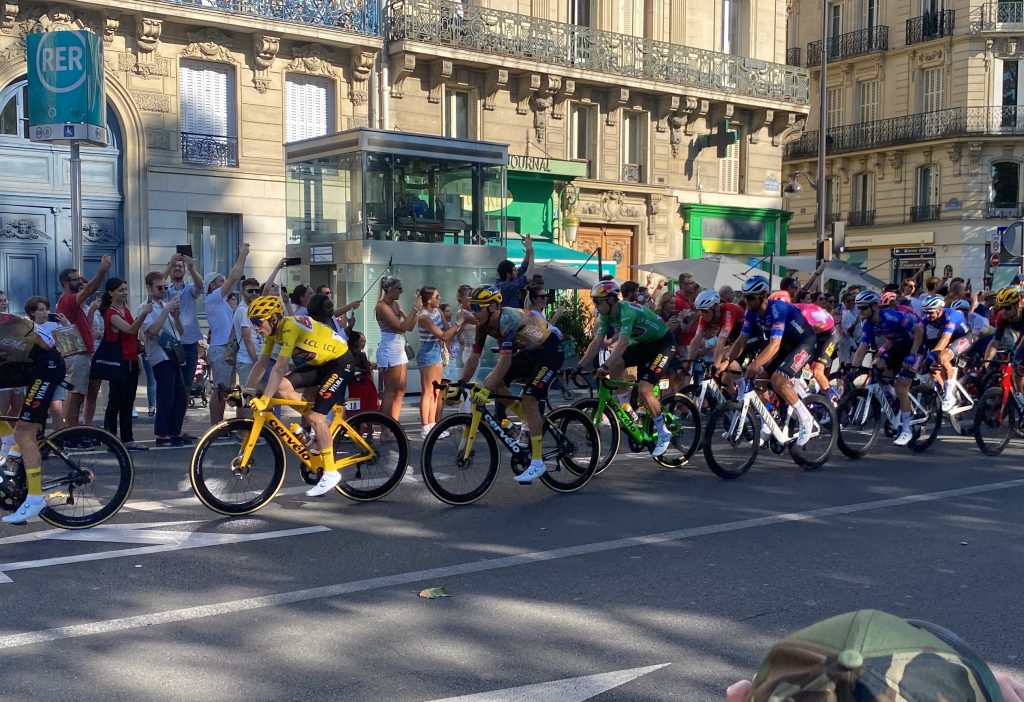 Still, we've been hoofing it all over the city – now reaching into parts far away from tourists. Last weekend we went swimming and boating at La Plage Paris, pools on the Canal de l'Ourcq on the city's northeast side. While Nicolas and I took a bread making class (very tasty), Teresa visited Parc de la Villette, a massive park on the city's north side programmed with museums, a water park and children's activities. Sunday we caught part of the final leg of the Tour de France near Luxembourg Gardens. Then, yesterday Teresa and I walked a couple miles along the Prominade Plantée, Paris' version of New York's High Line, or Chicago's 606, a converted rail line that winds through middle class neighborhoods, covered with trees and benches for contemplation or canoodling.
Nicolas and I found two small bookstores that specialize in nothing but books about cars. He's bought two to take home. And then, we found a street near Gare St. Lazare that's full of luthiers, piano stores, and other musical instrument shops.
The result is that we've gotten away from the parts of Paris covered with museums, cafes, and Belle Epoque buildings, and found more modern apartments, Franprix (sort of a French 7-Eleven), and a middle-working class vibe that seems more ordinary than what you'd find in in the central part of the city.
Still, away from the peering eyes of tourists, the parks and public spaces are well kept, the Metro runs regularly, and there are slightly less charming cafes to sip a glass of wine.
With one last day before we head back, we're struggling with what to do with our time. We've really seen most of the big points, so it's likely going to be some revisits of spots we especially liked, a nice lunch in a cafe, and then dinner with some American friends who live in town. Tomorrow we gird ourselves for de Gaulle airport, which is a mess, and then 16 hours of travel home through Toronto.
Thursday morning we'll pick up the dog, and then all will be back to normal. Thank goodness.