Now that I've ridden the train a few more times, I realize there are two types of American people who take Amtrak, people in the Northeast, and people everywhere else.
From New York, it's boggling how many places Amtrak goes in just a few hours: Boston, Montreal, Vermont, Harrisburg, Philadelphia, Washington, Albany. From Boston you can take Amtrak to Maine, the Berkshires, Rhode Island or Hartford. From Philly, the aforementioned cities, but also multiple trains a day to Pittsburgh. You can even take Amtrak to BWI or Newark Airports. The result is plenty of people of all stripes hop on Amtrak, because it's convenient and quick to get to nearby cities. Your train is likely sold out, and it's jammed with students, businesspeople pecking away at laptops, families going for visits, and vacationers.
But then, when you leave the Northeast, it changes. In the sleeper cars, it's mostly seniors, in coach, it's young people and others looking to save a few dollars – in most parts of the country a coach ride on Amtrak is a bit more expensive than taking a bus, but at least half as much as taking the plane. And then sprinkled into the group are the eccentrics, those who take the train because they don't like to fly, or think they are getting something better by riding the rails rather than a plane.
There may be some carbon-conscious riders among us, but they don't announce themselves and are hard for a passive observer like me to identify.
The reason for all these convenient Northeastern Amtrak destinations is that soon after Amtrak was created by Congress in 1970, it obtained the Penn Central Railroad's right-of-way, which runs four tracks wide from Boston to Washington, thus creating the opportunity for local and express trains to run in both directions along the Northeast corridor. In the rest of the country, Amtrak had to – and still does – mostly lease right-of-way from freight lines, who inevitably give their slow, muti-mile long trains priority.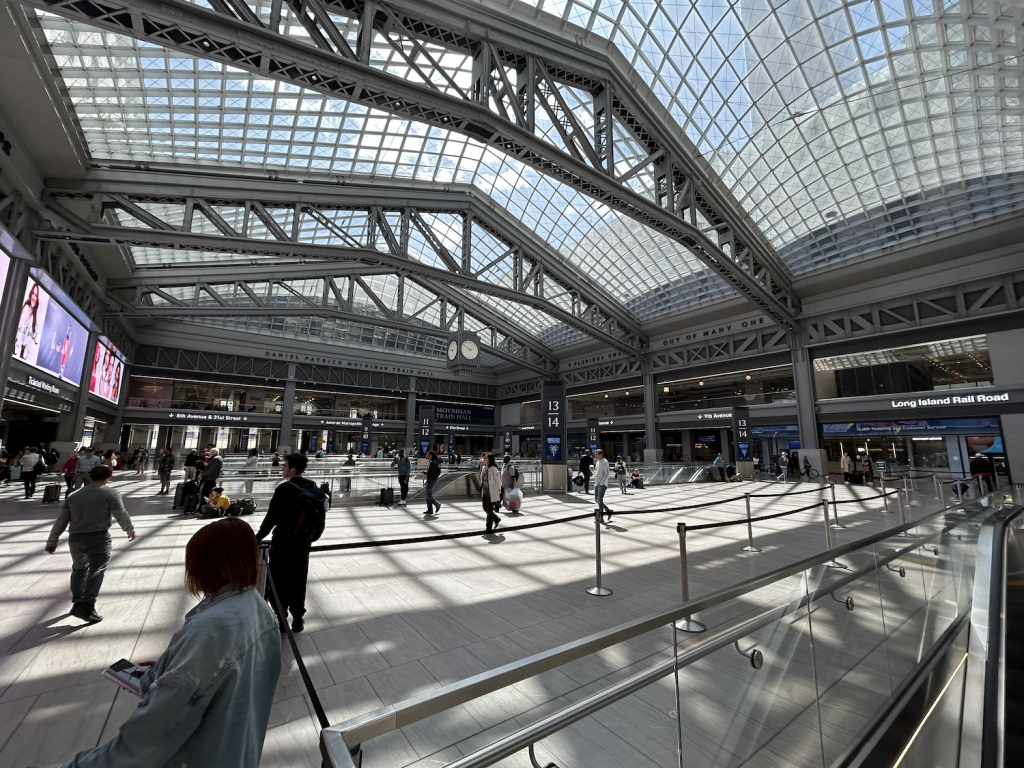 I'm an Amtrak rider because my wife works for the company, and I get to ride for free – or at a steep discount. And lately, I've been putting my discount to work. With a nifty card I keep in my wallet, I can ride coach for free on any line but the highspeed Acela line. I've run from New York to Boston, Chicago to Milwaukee, New York to Chicago, and Chicago to New Orleans, and Chicago to Boston. For those longer runs, my wife has snagged me a sleeper, where you get a bed, free meals, and all the drinks and snacks you want from the café. A few times our whole family has traveled together, which is sort of like going on a long road trip, but with a bed and nobody has to drive.
I'm not here to make an argument for American rail travel – it's pleasant enough and the delays aren't too bad. But when you consider the various comparisons to air travel: flight delays versus rail delays, crowded airports versus downtown train stations, staring at clouds versus pretty country views, rail is only appealing to those with time on their hands.
When it comes to travel, we're generally more interested in the destination rather than the conveyance. And so, how we get somewhere is more about convenience than anything else, which is exactly why airlines are able to squeeze us into tiny seats, we deal with scanners peering through our clothes, and we get so excited about a tiny package of Lorna Doone cookies as an airplane snack.
We like airplane travel because flights are frequent, relatively fast, and the most cost-effective way to get somewhere when you factor in the time you spend doing it. A three hundred dollar, two hour round trip flight from Chicago to New York makes you forget the time you spend in a security line, that you need to take off your shoes and belt in a public space, squeeze into a seat next to a mouth breathing stranger, and then pay $50 for long ride from the airport to your hotel.
In contrast, Amtrak just isn't as fast and frequent, nor can you get everywhere you want to go. For instance, from Chicago, I can't get to Indianapolis or Louisville by train. And if I want to go to Cincinnati, there's one train a day that gets me there at four in the morning. Detroit, isn't so bad with three trains a day, but it's a five hour ride. Chicago to St. Louis has five trains a day, but that's also a five hour trip. I also can't get to many college towns, like Des Moines, Madison, or Bloomington. I can go to East Lansing, but the station is far from the Michigan State campus, and hardly convenient for students.
Things get really rough if I want to travel long distance. A ride to New York or Boston is 18 or 19 hours. To go to Washington, DC, I have to switch trains in Philadelphia, with a multiple hour wait. To go to Florida, I have to first travel to DC, or New Orleans, then switch trains, which makes my ride well over 24 hours. I can imagine doing this in a sleeper, but coach? It's a brutal experience. The rides to the West Coast are all 40+ hours. Contemplating doing that in anything other than a sleeper sounds insane – and the coach tickets going out West cost as much as a plane ride. I know people do it all the time, but…well most of us just aren't that hardy.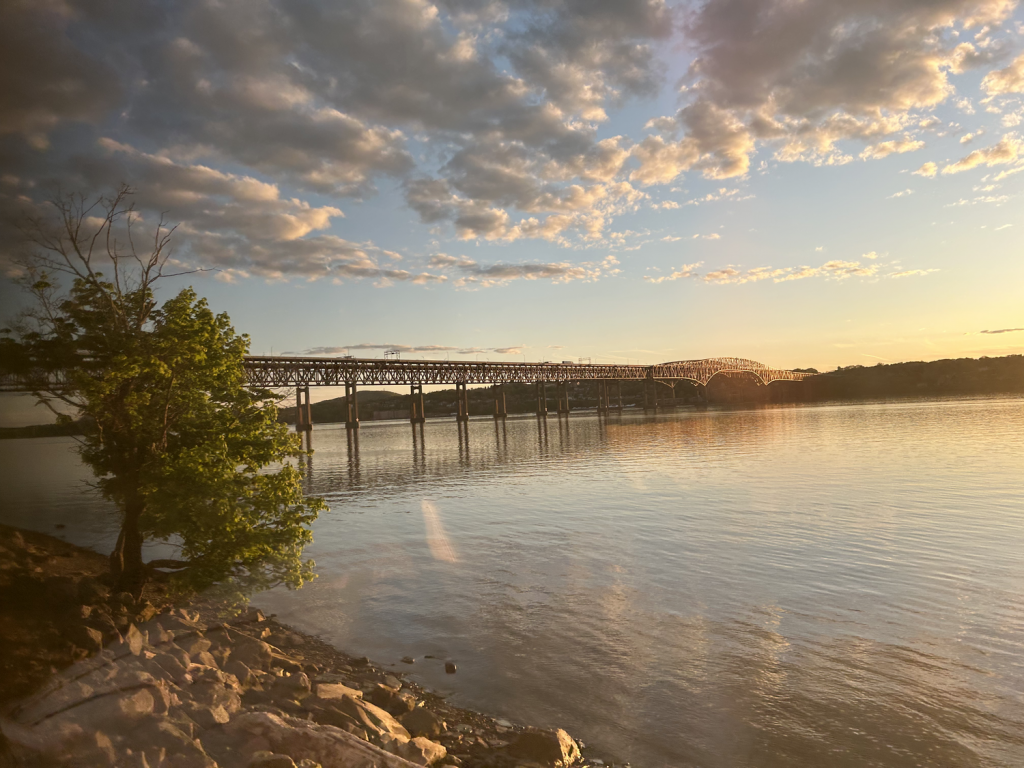 The real issue with rail travel is systemic. We can only get more frequent, faster trains – and cheaper rides – if the U.S. government pays for more tracks, so that passengers trains aren't competing with freight trains for space, that the rail lines are higher quality, so the trains can travel faster, and so Amtrak can buy more rolling stock to run more frequent trains.
This is a multi-multi-billion dollar project, without a doubt.
There's a ton of analysis on how much high speed rail would cost – $132 million per mile by one estimate, but French TGV costs at most $32 million per mile to construct. (In contrast, four lanes of new interstate costs anywhere from $14 to $40 million per mile). On in depth study also showed that U.S. transit projects overall tend to cost 50% more than other countries, and that often, newly built American rail stations and routes tend to use cheaper right-of-ways rather than go to heavily trafficked locations to save money (penny wise, but pound foolish).
Clearly, there's a great deal of savings the U.S. can find when building rail, and much of it has to do with a government that's highly inexperienced with building new lines, according to studies.
We're not going to get better rail travel in the U.S. without a public desire for change. As I've written elsewhere, you can get some systemic change with tax incentives and appealing to wallets, but in the case of building transportation infrastructure, which is generally not profitable enough for private industry, we're going to need government mandates.
Until then, I suppose I'll be riding the slow trains to check out the scenery.