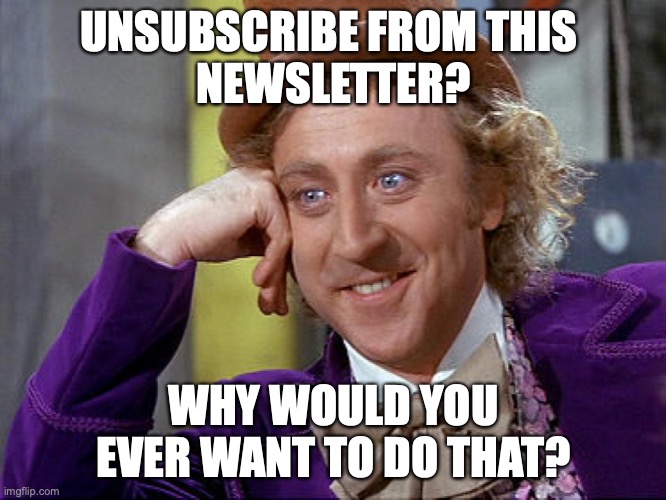 As you probably know, I am partial to email newsletters. When you find one you like, you can count on them to deliver on that one dopamine promise on a regular basis. You can choose when and whether or not to open them, and amazingly, there is an endless series of newsletter topics for you to choose from.
So, here is my annual update on newsletters I like, and that you should be reading. I'm still reading most of what I suggested last year, but like a hoarder addicted to my clutter, I've got more to share. Take what you like – and please drop me a note about ones you like that I should know about.
Amazon Chronicles – The author, Tim Carmody, has been taking a long break from this newsletter and other writing for personal reasons he details in his first newsletter in over a year. But, he says he's committed to the cause again, and if so, then get ready for detailed, thoughtful research and analysis on Amazon, one of the world's biggest and most important companies.
The Rebooting – Brian Morrissey was the founding editor of Digiday, a magazine the covered the intersection of digital publishing and advertising, which Morrissey essentially predicted would overlap and basically become one thing (e.g. Buzzfeed). He left Digiday a few months ago, and like everyone else, started a substack. Except it's great! Every week Morrissey gives us short bits on what he learned over the course of running Digiday and watching publishing and advertising. It's a master course, for free.
Numlock – In a time when so much of what we read is stressful, Numlock purposefully glazes over everything. It's short vignettes based on newly revealed statistics reported elsewhere. Yes, it's $4 a month. But every week I get at least two, "Wow I did not know that," moments. Worth it.
Flowstate – Although it comes in newsletter form, this isn't really a newsletter. Every day the authors deliver a suggested musician or composer with links to their music, which is always suitable for background music. Great if you're looking for something new to listen to that does not require a lot of psychic investment.
Vulture Buffering – We're all basically dumping cable for streaming. Last week Warner Brothers announced all their movies for 2021 will appear not only in theaters, but with simultaneous release on HBOMax. The entertainment world is changing, and NY Mag's Culture Vulture section is here to document it with Buffering. (Yes, I know this is my second media newsletter recommendation).
Orbital Index – Holy crap, space is cool! Orbital Index covers the neat-o space stuff, like discovering asteroids and robotic moon landings, while also reporting on the commerce of space that's rapidly commoditizing rockets and space launches. Follow Orbital Index and you'll begin to get the sense that in twenty years, we will go to Mars, but it'll be led by commercial enterprises instead of governments.
Chalkbeat – While daily metro newspapers have essentially abdicated coverage of public education, non-profit Chalkbeat has picked it up in Chicago, New York, and half a dozen other cities around the U.S. Even handed, and non-ideological, Chalkbeat is an essential read not just for parents of school-age children, but for anyone concerned about the future of the polity.